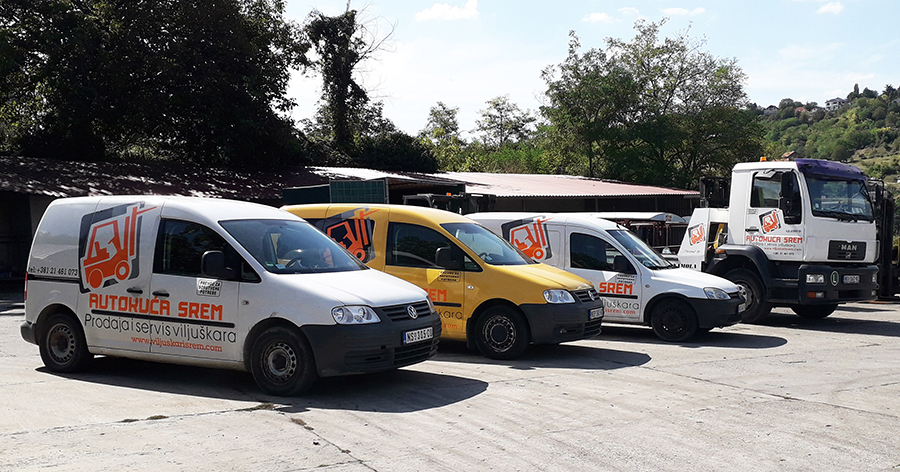 SERVICE - MAINTENANCE
Forklift service and maintenance as our primary activity is performed within the company, where experienced and professional staff, with years of experience in working on foreign and domestic forklifts, are employed.

Forklift service and maintenance is also provided on site in Serbia as well as in the surrounding area. Our fully equipped service team with special service vehicles, will come to you, diagnose the fault as soon as possible and repair it.

In the event of a fault that cannot be repaired on-site, the forklift is transported by our truck to a service center, where further repairs are carried out. While your forklift is located with us at the service center, we are able to provide you with a suitable replacement forklift, so that your business and production run smoothly for the duration of the service maintenance.

In addition to the regular on-site servicing, DOO AUTO HOME SREM has a service infrastructure for the elimination of the most complex malfunctions as well as complete repair of the forklift, which relates to mechanical assemblies: general engine repair - hydraulic repair, forklift crane repair, repair and reparation of ladders etc. . Interventions and replacement of electrical and electronic parts, replacement and repair of traction batteries, diagnostics and adjustment of forklifts. Locksmithing and painting services.
---
If a fault or malfunction occurs, contact us by phone and mail, our mobile repair team will arrive at your address at the desired time. .
Fault diagnosis

A thorough examination and analysis will identify and detect a malfunction on your forklift. .
---
Sales of new and used forklifts (diesel, gas and electric)
Forklift rental
Forklift service
Spare parts for all types of forklifts
Manufacture of new parts and repairs to existing parts
Sale, service and purchase of traction batteries
Sales and service of battery chargers
Fork lift attachments
Forklift tire assembly and disassembly
Installation and disassembly of various machine parts and assemblies